A Review of Roxanne's Raw Living Food Cuisine Larkspur, California: A Raw Foodists Perpective

By Cecilia Ines Benjumea

I had been anticipating going to Roxanne's for almost a year. I considered it a deserved reward for carefully following my new vegan and raw lifestyle for 12 months. When my boyfriend made reservations almost a month ago to get us in for Christmas Eve I was patiently counting the days to go. I wanted to go partly because Roxanne's has gotten rave reviews in the press and through word of mouth, and also because it is not often that a raw vegan gets to go to a gourmet restaurant and actually order something on the menu!

When we arrived at the restaurant the first thing I noticed was the courteous service. At Roxanne's you are treated like royalty. The servers are extremely polite and helpful. I also noticed the dim lighting and that everyone seemed to be dressed in gray with a lot of wine glasses at their tables. This was definitely not like any other raw restaurant I have been to and I wondered if we were the only ones who followed the living foods lifestyle and weren't just trying out raw food for the "novelty" of it. The atmosphere definitely felt posh and I guess that is what is to be expected at a gourmet restaurant.
Now for the food. The first thing I ordered was the Green Roxie. It was a combo of apple, dandelion, and ginger juice served in a small Martini glass. I guess the five dollars was for the novelty of looking like you were drinking a green Martini! My boyfriend's father ordered the Almond Nog that also came in a Martini glass. He said it was good, but the server told us that it contained a fruit extract so I'm not sure if the extract was heat processed or not.
Next came the appetizers. I ordered the Spicy Pumpkin soup. It was amazing. It was served warm, and I could not believe it was not cooked; my only complaint was that they only served me a small cupful about the size of a teacup.
My boyfriend and his father ordered the pizza as an appetizer. The pizza was made with cashew cheese so I'm not sure if it raw or not considering the way most cashews are processed. The pizzas were about the size of a coffee can lid and that is being generous. The pizza was very oily and contained salty olives. My favorite part was the sprinkle of baby greens on the top, too bad there was not more. My boyfriend's mother ordered the sea vegetable salad for two dollars extra. She got about four little baby fistfuls of different types of seaweeds marinated in different sauces. I tried some of the sea lettuce and it was amazing, like no other seaweed I have ever tasted. I would definitely recommend the seaweed salad as an appetizer because it seemed to be more food than anyone
else got for their appetizers; it had a very unique flavor; and it probably contained less fat than most of the other choices. My boyfriend ordered the Pad Thai as a second appetizer. The noodles were made out of young coconut strips. It tasted great but it was very salty and again a very small portion.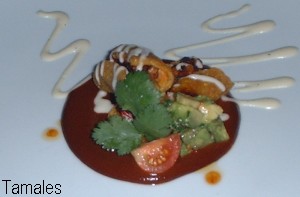 Finally came the entrées. To my disappointment, my entrée was even smaller than my appetizer. I ordered the tamales in mole sauce that consisted of two tamales no bigger than my pinkies. The tamales were made from corn and some type of nut cheese that was colored orange. The mole sauce contained cooked chocolate so it wasn't truly raw. From my two mouthfuls, I vaguely recall that it tasted incredible and similar to the sweet corn coating of real tamales.
I do not recommend the tamales as an entrée because they were just too small. Between the small cup of soup and the pinky-sized tamales, I had just paid 29 dollars for about two fistfuls of food. By this time I was missing my huge salads that I usually make at home. Luckily, my disappointment didn't stop me from sampling what the others had ordered. My boyfriend's mother ordered the lasagna.
It was small and tasted good but it was too salty and oily for my liking. My boyfriend's father ordered the curry plate that had a creamy consistency and a subtle curry flavor that did not overwhelm your palate. The curry was good but the best deal seemed to be the Mediterranean sampler platter that my boyfriend ordered. It was about four fistfuls of food and it gets my recommendation for the best entrée and the most food for your dollar. It consisted of raw hummus and crackers, two dolmas, two falafels with a lemon "yogurt" sauce, and some type of small Greek salad.
The dolmas had pine nut and parsnips in the inside but I felt they were too salty and oily. The hummus had a smooth texture and a light flavor. The crackers that came with the hummus were amazing. They were hearty and crispy just like the best crunchy cooked crackers you remember or perhaps better. The falafel was good and the lemon yogurt sauce really did taste like yogurt. The small salad was good also although it seemed to be drenched in oil and salt.
For dessert my boyfriend ordered the Apple Crisp with Cinnamon Ice Cream on top. The server told us that the desserts with chocolate were not really raw because the chocolate is cooked. The Apple Crisp was amazing and the ice cream made out of almond milk and honey was just like the creamy stuff I couldn't get enough of before I was health conscious. They gave a good portion for the dessert as well. I definitely recommend the Apple Crisp with Cinnamon Ice Cream. We finished the night with some non-raw herbal teas with almond milk. For our party of four, the bill was around 200 dollars including the tip. In closing the dishes I recommend are, Sea Vegetable Salad (appetizer), Mediterranean Sampler Plate (entrée), and the Apple Crisp with Cinnamon Ice Cream (dessert).
Do I recommend Roxanne's in general? Yes and no. If you want a gourmet experience at a ritzy restaurant then I would say yes. If you don't mind paying outrageous amounts for a little bit of food and you don't mine eating a meal consisting of mostly nuts, oils, and salt then I would say yes. If you can afford to go just to see what all the hype is about then I would say yes. But if you are a health conscious rawfooder who wants to eat a nourishing meal then I would definitely not recommend Roxanne's. It took me about four days to recover from the heaviness, acidity, and saltiness of the meals. I'm not used to eating ingredients such as vinegar, salt and salt based products, honey, chocolate, and oil and definitely not all at the same time! I was so thankful to go back to my mono fruit meals and huge green salads. If I do go back to Roxanne's it won't be for a long time. The next time I get a hankering for a gourmet raw meal I'll just get creative in the kitchen and eat with friends and loved ones. It's a lot healthier and a heck of a lot cheaper.
Disclaimer: These are only my opinions and although I gave Roxanne's mixed reviews, I am grateful to Roxanne's for putting raw foods on the map and for the ecological sustainability of her restaurant design. I also feel good that a high percentage of the profits go to charity. I stand by the dishes I recommended although I have not tried all the dishes on the menu. For an in depth look at Roxanne's restaurant please go to: http://www.roxraw.com/